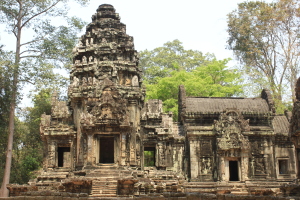 Are you planning to visit the temples of Angkor Wat but unsure what to expect?
Undecided:
• Which ticket to get?
• What transport – bike or tuk-tuk?
• What to bring/wear?
Here are some tips
Which ticket?
There are three types of entry passes:
1 day – $20 USD
3 days – $40 USD
1 week – $60 USD
At around 4:30pm they start selling tickets that are valid that day and the next, which is especially convenient for visitors with just 1 day pass.
1 day pass: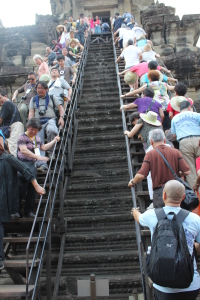 Chance to see the most recognizable temples
• You will be able to see the three most famed temples: Angkor Wat, Bayon and Ta Prohm
• You are unlikely to be bored with the temples
• After seeing the best bits, you might feel that you don't need to see more anyway
3 day pass
Chance to see also the off the beaten track temples
• Opportunity to see more remote temples or archaeological sites (e.g. Kbal Spean) and experience them with less crowd
• You may end up seeing the ones you wanted on the first day and think you wasted your money
• You may get bored with the temples
7 day pass
Suitable for archaeologist and temple enthusiasts
• You will be able to see everything you want in a slow pace
Bike or tuk-tuk?
Biking sounds more adventurous, but… with the mixture of merciless sun and usually underestimated distance you may end up feeling exhausted and very little to see. Honestly, I don't think cycling with only 1 day pass would be a very efficient trip or enjoyable experience, unless you are accustomed to the environmental and physical conditions, so if you competed in a Sahara race you will be OK. Cycling with 3 day pass? Yes, why not. You could cycle the first day and catch up on what you missed out the following days by hiring a tuk-tuk driver.
Hire a tuk tuk driver (about $20 a day)
A driver is not the same as a tour guide. A driver will drop you off at the entrance of the temple and pick you up on the other side. So you will be wandering around the ruins on your own. Tell your driver beforehand what you want to see and negotiate the price – visiting more remote temples may cost more.
Rent a bike ($0-3 a day)
Many guesthouses rent them as well.
What to bring/wear?
If you planning to see sunrise/sunset a torch will be useful
Sturdy shoes – there is a lot of walking (or even steep climbing) involved
Hat, sunglasses and sun lotion
Try to dress in a respectful manner – your shoulders and knees should be covered when visiting temples. (I heard tourists had been denied to visit some of the towers, because of the inappropriate clothing)
Plenty of water and some snack
What to expect?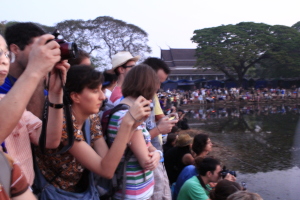 Sharing the perfect sunrise spot with hundreds of others
Persistent vendors – the children are very determined to sell their products
Taking burning incense inside the temples – They'll hand you burning incense, show you how to make a quick prayer (three times bow your head and place the incense by the Buddha statue) and then try to charge you for it.
How to make the visit more enjoyable?
Don't rush to see everything right away. Take it easy. Pace yourself, take the time to relax, get coffee, lunch etc.