Here is my collection of impressions and observations
• The currency used in Cambodia is the riel and US Dollar. Unless you want to carry a bag full of Cambodian bills, there is no need to exchange US dollars. Riels have a very low value, for instance 4000 riel is equivalent to $1US. It is common to get change in a combination of both currencies.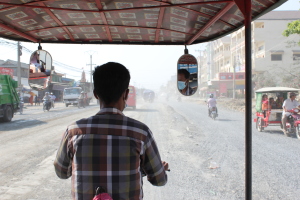 • "Roads" (you need to have a good sense of imagination to call them roads but the journey will be indeed memorable one) – the roads are bumpy and very dusty. I would recommend bringing a face mask (or you could buy one here) and leaving light outfits behind. In other words, you will get dirty. I came back from a city stroll looking as if I was working a week in the fields.
• Excessive heat and humidity just like in a wash-house in the middle of a shift.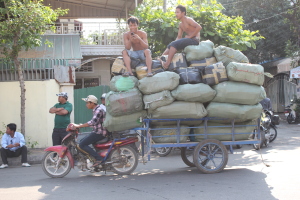 • Chaotic traffic. You will be amazed how many people or things can be transported at once. I find carrying all sorts of stuff like that as a mixture of skill, insanity and brevity but it somehow works.
• Power cuts – just in case bring a torch along (if you're planning to see sunrise at Angkor Wat you will need it anyway)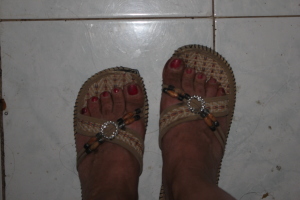 • Streets are full of rubbish
• Poverty, which leads to begging
• Cambodians are very friendly
In Phnom Penh and Siem Reap is western food almost everywhere and Wi-Fi connection offers most convenient stores and guesthouses.
Expect anything but boredom. Have a memorable time