Cambodia, officially called the Kingdom of Cambodia, is a country in South-eastern Asia, bordering with Thailand, Laos and Vietnam. The capital is Phnom Penh.
During my short trip I've just visited Phnom Penh and Siem Reap and here is a list of places I've visited.
Points of interests
Phnom Penh: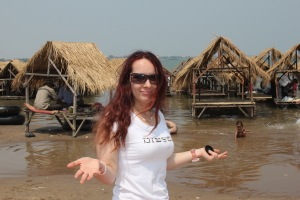 • The Royal Palace and the Silver Pagoda
• Choeung Ek, Killing Fields
• Tuol Sleng Genocide Museum
• Wat Phnom
• The National Museum of Cambodia
• The Independence Monument
• Central Market (Phsar Thmei)
Siem Reap:
• Angkor Wat – the jewel in Angkor archaeological park
Phnom Penh
The Royal Palace and the Silver Pagoda (Wat Preah Keo Morokat)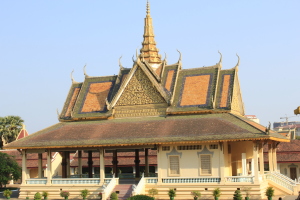 This area is a home to many different temples and monuments and because the King lives here, only some of the buildings are opened to the public. Visitors will find here a library, shrines, royal stupas, a model of Angkor Wat, the royal dance costumes, the dinner sets & silverware, the royal palanquins & the elephant seats and above all the main attraction – the Silver Pagoda, where the floor is covered with 5,329 silver tiles and there is also the statue of 17th century baccarat crystal Buddha encrusted with 9,584 diamonds.
• No photos are allowed in the Silver Pagoda
• Dress code – shorts, short skirts and tight tops are not allowed to wear and shoulders must be covered as well.
(Admission: US$ 6.50 incl. camera fee)
Address: Samdech Sothearos Boulevard
[gmedia id=3]
Choeung Ek, Killing Fields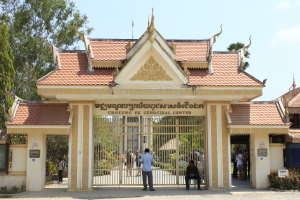 Choeung Ek, best known as Killing Fields, is one of the hundreds genocide sites throughout Cambodia where the Khmer Rouge regime killed and buried thousands of people. At the Killing Fields bodies of 17,000 victims were found buried in mass graves. These victims were transported from the Tuol Sleng prison in Phnom Penh between 1975 and 1979.
After the Vietnam War in 1975 the Khmer Rouge took over and the people celebrated thinking the grim time has gone, but little did they know that gruesome years were about to come. The Khmer decided to start from scratch, declared "Year Zero" and began with "purification", which was:
• Evacuating cities, so the people had to walk to the countryside to become peasants
• Abolishing money
• Shutting public and private transportation
• Shutting down newspapers and television
• Banding schools, religious practice
• Killing anyone who was seen as a threat, educated were particular targets. So those who wore glasses, spoke a foreign language, or had soft hands (if they worked in the fields, their hands would be rough) were regarded as educated.
The Khmer Rouge tortured and killed they own people. Bullets were considered valuable, so most people were bludgeoned to death by using axes, bamboo sticks, hammers and knives. Babies were killed by beating their heads against a tree, the Killing Tree.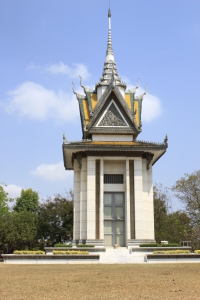 Visitors receive an audio guide, which takes them to numbered posts around the site and help them learn more about the gruesome history.
The first thing you see is this monument (picture on the right) a 17 story glass stupa filled with 8,000 human skulls.
Location: 15 kilometres from Phnom Penh
Entrance Fee: $5 Adults
Interested in learning more? Check out the movie "The Killing Fields".
Various studies have estimated the number of deaths between 1.7 and 2.5 million people out of a total population of 8 million; over 1.3 million victims and thousands more died from starvation, disease and exhaustion from overwork. Almost everyone over 40 in Cambodia has been affected and has stories of terror to tell. Vietnamese liberated Cambodia from the Khmer Rouge in 1979.
I think it's important to visit these sites and face up history, to acknowledge and learn what happened, and prevent it from happening again. Books and movies are important part of learning process, but being right there brings a whole new level of understanding.
Tuol Sleng Genocide Museum
S-21,Toul Sleng – this old school was turned into a prison where thousands of victims were tortured and taken to the site at Choeung Ek, Killing Fields to be killed. Only seven prisoners were found alive at S-21, you might see some of the survivors on the site selling their books.
In this museum there are photos of the victims, as well as instruments of torture. The balconies with barbed wire were to prevent victims from committing a suicide.
Wat Phnom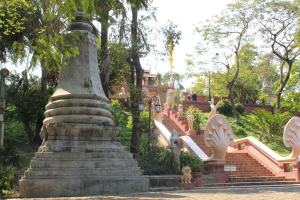 This famous Buddhist Temple sits on the top of 27 metres high hill and it is the tallest temple of the capital. According to the legend a lady called Penh found four bronze Buddha statues on the riverbank by the Tonle Sap and placed them on the small hill, where the temple was built to house them. The first pagoda on this site was erected in 1373, but the temple was reconstructed several times over the centuries and rebuilt in 1926.
In the area there is a large stupa which stores the ashes of King Ponhea Yat and a shrine dedicated to Lady Penh. The Cambodian capital Phnom Penh takes its name from this temple.
Admission: $1
Vendors are selling birds in cages (setting the birds free could bring you a good fortune)
Street 96 | Norodom Blvd
The Independence Monument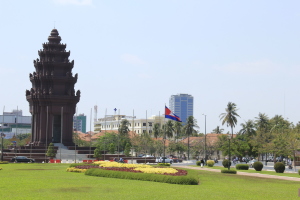 Monument was built in 1958 to commemorate the country's independence from France in 1953. It stands at a busy roundabout of Norodom and Sihanouk Boulevard. Visitors are not allowed to enter the monument.
In the park nearby there is a statue of the former king Norodom Sihanouk, who died in 2012. Norodom Sihanouk was the son of King Norodom Suramarit. He became a key figure in Cambodian politics for six decades, holding many positions, such as king, sovereign prince, president and prime minister.
The National Museum of Cambodia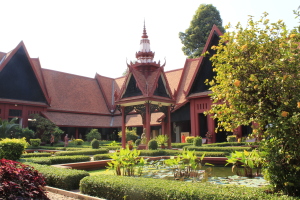 It exhibits Khmer sculptures that dates from the pre-Angkor to post-Angkor periods (spanning from 4th to 14th century).
In the centre of the courtyard is a statue of the Leper King.
The stickers attached at the objects don't give a lot of information, but multi-lingual tour guides are available to show tourists round.
Admission: $5 for foreign visitors. No photos allowed. Just in the garden for extra $1
Address: Samdech Sothearos Boulevard
[gmedia id=15]
Central Market (Phsar Thmei)
This large Art Deco building houses many stalls inside and around the market. All kinds of things can be purchased here from crafts through clothing to electronics. It closes at 5pm. Address: between streets 126 and 136
Koh Dach – Silk Island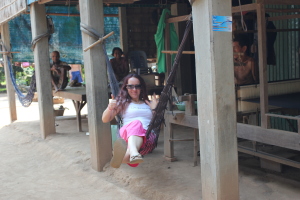 Experience the rural life, learn about silk weaving and enjoy a picnic in an open bamboo huts. The beach with the surrounding bamboo huts is a popular picnic destination with locals. Tourists get the chance to experience rural Cambodian stilted village in this 30 square kilometer island known for silk weaving. Entry to the beach costs $1 and another dollar for sitting in the hut on the reed mat. Vendors selling all sorts of food (I paid one dollar for several pieces of sticky rice wrapped in banana leaves) I hired a tuk-tuk from the city and he took me to the Japanese Bridge and from there we took a ferry. The island is lying in the Mekong River approximately 15km from Phnom Penh.
Expect unsealed and very dusty roads. Highlight – this little rural island doesn't seem to be visited by many tourists.
[gmedia id=5]
The Temples – Siem Reap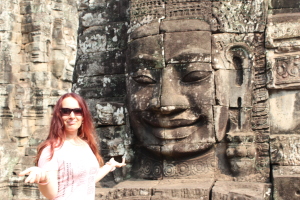 • Angkor Wat – the most famed temple and best-preserved structure within the Angkor complex.
• Ta Prohm Temple – walls are intertwined with giant roots of trees. Built in the late 12th and early 13th.
• Bayon – the giant stone smiling faces are the most recognizable images of this temple.
• Thommanon – a small temple with nice stone carvings.
• Chau Say Tevoda Temple – located across the street of Thommanon. Both are Hindu temples in the Angkor style.
Angkor Wat – quick facts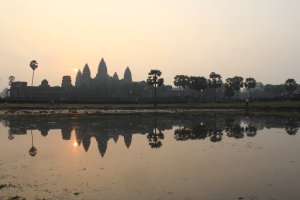 • Angkor Wat was first a Hindu temple, built in the 12th century and around the late 13th century shifted to Buddhist.
• Angkor Wat translates to "City of Temples".
• This ancient monument appears on its national flag.
• The archaeological site stretches over some 400 km².
• Angkor Wat became UNESCO World Heritage Site in 1992
• Angkor Wat is the largest religious monument in the world.
[gmedia id=7]