James Cook was impressed by people's generosity and abundant resources of the region and named it "Bay of Plenty". It seemed to be a contrast of empty "Poverty Bay" he just sailed past. This region's pleasant climate makes ideal conditions for agriculture e.g. avocados, kiwifruit and citrus are grown here.
Rotorua – the centre of Maori culture
This area offers a plenty of diverse attractions.
I have done/visited:
• Sledging
• Zorb
• Luge
• Schweeb
• Xtreeme fall
• Wai- O- Tapu & Waimangu volcanic valley – geothermal wonders
• Maori village – Whakarewarewa
• Hot pools
• White Island
Waimangu volcanic valley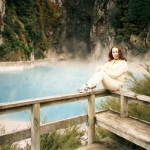 This volcanic valley was created after Mount Tarawera eruption in 1886; it is the youngest geothermal site in the world. The one-way walk leads to Lake Rotomahana and from there visitors can either combine this trip with a boat cruise (ticket sold separately) or head back – on foot or by courtesy shuttle bus. Address: 587 Waimangu Rd, Rotorua
Whakarewarewa – cultural Maori experience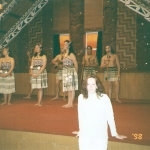 This Maori village in geothermal area offers twice a day cultural performance – Maori Haka. You can try traditional geothermal food – hangi.
Address: 17 Tryon Street, Whakarewarewa Village
Sledging
Sledging is an activity of going down a river head first while lying on half a boogie board and holding onto handlebars. After instruction, we put wetsuit, booties, flippers, helmets, and life jackets on and were off for an hour of action.
This particular route on Kaituna River is graded 3; we experienced 5 main rapids, and surfed a few of the bigger ones.
Location: about 11km from the centre of Rotorua, at The 3D Maze, Te Ngae Park
Rating: 5/5 Absolutely exhilarating adventure. Being directly in the rapids instead of in a raft has made this experience more memorable and exciting.
Tried: 30.11.2012
Zorb
An exciting ride in a globe. Zorb is a giant (3.2 m) inflatable plastic ball with an inner ball of about 2 metres. There is dry or wet ride option available. I took the water filled ZYDRO and enjoyed rolling the 150 meters downhill at a speed of up to 30 km/h. Zorb was born here in 1995.
Date: 20.11.2007
Luge – Rotorua
Luge is a three-wheeled cart controlled by handlebars. The usage is very simple: to slow down or break pull the handlebars back toward you and for a faster ride push them forward. Firstly, a gondola takes you up and from there you can experience the fun ride through Redwood Forest.
There are three tracks available, but the Scenic Track is a compulsory route for the first time riders. After a brief safety instruction you are off to go to enjoy the downhill ride. Once on the bottom, a chairlift takes you back to the top.
The Scenic Track is for beginners and is compulsory before taking the Advanced ride. It's two kilometers long.
Intermediate Luge Track – 1.7km long ride
Advanced Luge Track – 1km more thrilling track
The luge started here in 1985.
Visited: 29.4.2011
Shweeb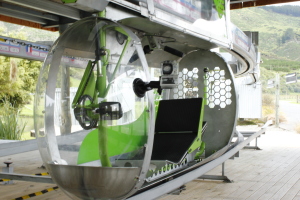 It's something between a monorail train and a bike with more convenient seat – you lie down while cycling. The 3-lap race is 600 m long and the ride will take you up to 5 meters high. There are two capsules abreast so you can compete with your mates.
It was born here and so far this "mixture of transport and workout" attraction can be only experienced in Rotorua.
Location: 500m off State Highway 5, Rotorua
Tried: 29.11.2012
Freefall Xtreme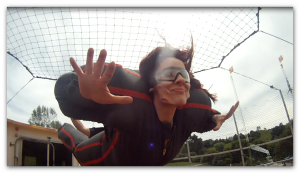 Below in the middle of the deck, there is a wind tunnel that blows you up into the air, which is supposed to simulate skydiving. After putting flight suit and brief instruction you are off to float.
Facts:
Wind Speeds: Up to 220km/h
Powered By: Twin turbo, Detroit diesel V12 engine
Height of tunnel: 20m high
Date: 29.11.2012
Location: 500m off State Highway 5, Rotorua
Stars: 1/5 the biggest disappointment
I found it simply dull. The flying was nothing more than floating above the fan while my feet were held by one of the staff members while paying attention during the whole floating process to the other guide who was navigating and adjusting my body posture. I know this is for safety reasons, but I'm not used to being commanded. They won't let you do the twists, spins and barrel rolls as they claim on their website unless you have previous experience at Aggroventures.
I don't want to discourage anyone, btw. the attractions were invented for us to try not just to have a look at them.
Thermal pools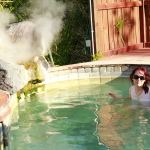 After a day filled with adventures and culture enrichment, relaxing in a hot pool may be just the right treat to enjoy the rest of the day. There are plenty of motels/hostels offering hot tubs. If you are just passing by you could visit for instance Polynesian spa.
Wai-O-Tapu
This colorful geothermal park is located just about 30km south of Rotorua and offers the experience of steaming grounds, cold and boiling mud pools, geyser, terrace formations and volcanic craters Wai-O-Tapu
[gmedia id=40]
Tauranga
It's the largest city of Bay of Plenty region. It's just a few minutes away from a resort town Mt Maunganui.
Mt Maunganui
• Summit track (Mauao stands 232 metres above the Pacific)
• Sandy beach
White Island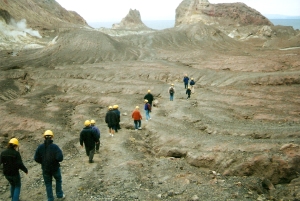 It is the most active and only live marine volcano in New Zealand. More information White Island