List of words, expressions, abbreviations and nicknames commonly used in New Zealand.
All Blacks – representative rugby team
ANZAC DAY abbrev. Australian (and) New Zealand Army Corps. 25. April is a public holiday to commemorate soldiers who were killed and honor those who returned.
Aotearoa – The Maori name for New Zealand. Usually translated as "Land of the long white cloud"
Aussie – an Australian, Australia
Bach – holiday or beach house
Barbie – barbeque, BBQ
Beehive – government office building in Wellington. The shape/design of the building looks like beehive.
Bottle store – sell alcohol (only beer and wine are available at supermarkets)
Bro – brother, it refers to a male friend or relative
B.Y.O. – it states that restaurants are not licensed to sell alcohol but customers can bring their own wine to drink with a meal.
Bring a plate – It means bringing a plate or pot of food to share to the party, meeting etc; not bringing an empty plate with cutlery
Cut lunch – meal from home
Cheerio – little sausages (sometimes mixed with Cheerios – breakfast cereal)
Chilly Bin – An insulated box for keeping food and drinks cold
Crook – feel unwell or ill
Cuppa – a cup of tea, coffee
Dairy – a small shop, often open 7 days a week
Dodgy – strange
Duvet – a quilt
Glow worms – are not worms – they are larvae and the light comes from their waste and they use it (like a spider its web) to capture and eat the insects attracted to their glow. Glow worms are definitely most sought after insect in New Zealand.
Haka – shouting dance, commonly used by national sports teams before game
Hangi – Traditional style of underground cooking
Hokey Pokey ice cream – a favorite ice-cream flavor, which is vanilla ice cream with the combination of honeycomb chunks
Hongi – a Maori form of greeting expressed by pressing noses and forehead
Jandals – flip-flops
Kai – the Maori word for food
Kia Ora – Maori greeting, greeting, wishing a good health
Koha – Maori word for a gift, goods or money, donation
Koru – uncurling young fern
Kumara – sweet potato
Kiwi – a flightless bird or a word referring to a New Zealander
Maori – indigenous people of New Zealand
Marae – courtyard of a Maori meeting house, which has great ceremonial/spiritual significance; a place for welcoming visitors, holding funerals etc.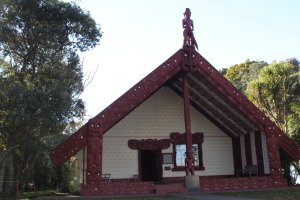 Moko – traditional Maori tattooing, usually facial. Moko on men usually covers a large part of the face, women's moko generally covers a chin and lips.
OE – overseas experience
Op shop – opportunity shop, sell donated, usually used clothes.
Pakeha – non-Maori person
Pavlova – a meringue dessert with whipped cream and fruit
Petrol – gasoline
Pissed – drunk
Push bike – bicycle
She'll be right – it is a common expression that everything will be OK, nothing to worry about
Smoko – coffee or tea break at work
Sparkie – electrician
Sweet-as – awesome (a very common phrase)
Tomato Sauce – ketchup
Ta – thank you
Tea – dinner – generic name for evening meal, main evening meal, dinner
Togs – swimsuit
Waka – Maori word for a canoe