The northernmost region with subtropical climate is a home to:
Waitangi Treaty Grounds – a historic site
This is the place where the British Crown and Maori chiefs signed on 6 February 1840 New Zealand's most significant document: The Treaty of Waitangi.
Points of interests: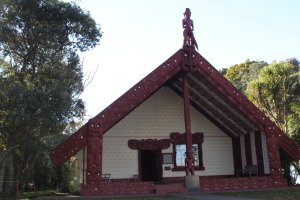 • The Treaty – home of James Busby, British government's representative
• Marae – the Meeting House (Marae – a courtyard of a Maori meeting house, which has great ceremonial/spiritual significance; a place for welcoming visitors, holding funerals etc.)
• The flagstaff marks the spot where the document was signed
• The world's largest ceremonial war canoe – minimum of 76 paddlers are needed to manage this 35-metre-long canoe.
6 February is a day of commemoration of signing the Treaty of Waitangi; it's a public holiday.
Visited: 6.6.2013
Admission: NZ resident – (donation in 2013) now $15 fee, international visitors – $25
Waipoua Forest – is a famous kauri forest
Just a short board-walk from the road will take you to Tane Mahuta, the country's largest kauri tree. The trees live for more than 2000 years.
Measurements:
Trunk girth: 13.77 m
Trunk height: 17.68 m to the first branch
Total height: 51.2 m
Kauri trees facts
Kauri forest once covered 1.2 million hectares of the North Island. It provided a great source of gum and timber. Timber was used for carving and building boats and houses. The gum was used for cooking, lighting, and chewing. The Waipoua Forest is a 9105 hectare sanctuary, created in 1952 to preserve the remnants of the majestic kauri forest.
Getting there
About 18km south from Omapere on SH12
Resources: http://www.doc.govt.nz/parks-and-recreation/tracks-and-walks/northland/kauri-coast/tane-mahuta-walk/
Visited: 8.6.2013
It is worth visiting, but next time I would take a night walk as well to enjoy the forest with glow worms.
Cape Reinga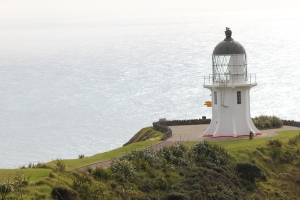 Even though I prefer independent travel, taking a tour to Cape Reinga turned out to be a sensible decision for several reasons:
• the Ninety Mile Beach is suitable only for 4 WD vehicles (we don't have one)
• renting a car was out of question as rental companies won't allow their cars on the sand
• taking the same 100km road twice would be boring.
Sand safari tour picked us up at Ahipara at 8:30am and the first thing we went to visit was the Ancient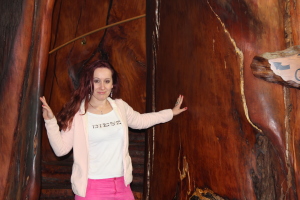 Kauri Kingdom, which is a cafe, souvenir shop, gallery, handcrafted kauri products and the giant staircase under one roof. The Staircase measurements: Girth: 11.3m; diameter: 3.6m; height: 5.1m.
Afterwards on the way to a popular picnic spot Tapotupotu Bay, we took a short stop to take pictures of a white sand beach Rarawa. After that we headed for Cape Reinga to see where the seas of the Pacific Ocean and the Tasman Sea join. Te Reinga is a place of spirits. According to Maori mythology this is a place where spirits depart from a land of Aotearoa and return to their ancestral homeland of Hawaiki. (This is a sacred site, so eating is not permitted in this area).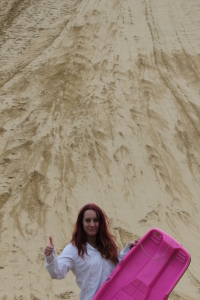 The highlight of the whole day trip was sand tobogganing the dunes of Te Paki. The hill was pretty steep, the ride rather fast so I was picking up plenty of sand, which was sticking on my face (not always pays off to put on sun cream), I eventually closed my eyes and hoped that I wouldn't take on any onlookers or end up in the puddle just like the guy before me. The ride was awesome – pure thrill. The only drawback was sliding down only three times, but this is a part of being on a scheduled tour.
Quick facts: 90 Mile Beach is not long 90 miles; its length is 55 miles (88 km) and it is New Zealand's longest beach motorway.
Attention: This beach is suitable only for 4 WD vehicles and passable at low tides!
Visited: 7.6.2013
Russell – In 1840 Russell became the first capital.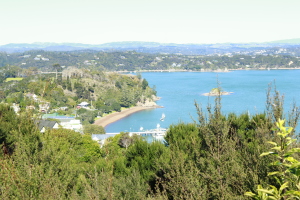 It is a home to New Zealand's:
• Oldest restaurant, The Gables (Founded in 1847)
• Oldest church, Christ Church (Built in 1836)
• The Duke of Marlborough holds the oldest liquor license. (Since 1840)
The flagstaff, the historic spot, is situated on Maiki Hill. We drove up there and walked just a few metres to the flagstaff.
Location: We reached the ferry from Opua which took around 10 minutes.
Visited: 6.6.2013

Whangarei – the capital of Northland Region with the population of approximately 50,000
To do/see
• Town basin – a pleasant place with a harbour and shops. The waka'wave sculptures (waka – long boat) are at the end of walkway from the Town Basin. The path with informative panels will lead you there in just about 10 minutes.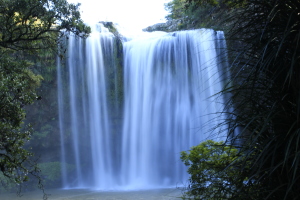 • Whangarei falls – 26.3 metres high waterfall. It takes about 30 minutes to get there and back to the car park.
• Mt. Parihaka war memorial and lookout nearby offers a stunning view of the city
(Parking is available right at the top of the hill)
Waipu Caves to explore and see famous glow worms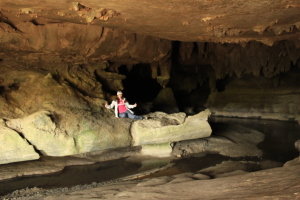 Waipu Caves are self-guided, free of charge and free of crowds. It was easy to get into the caves, so there was no need to climb or crawl. After we crossed ankle deep stream and got into the third part of the cave, we could see the famous glow worms.
Glow worms – are not worms – they are larvae and the light comes from their waste and they use it (like a spider its web) to capture and eat the insects attracted to their glow. Glow worms are definitely the most sought after insect in New Zealand.
Location: about 15 km NW of Waipu.
Visited: Whangarei 5-6.6.2013 The caves 8.6. on the way back home
Kawakawa – home to famous toilets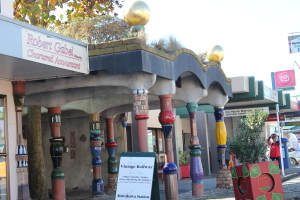 Yes, the biggest attraction of this town is a public toilet. It was designed by an Austrian artist Friedensreich Hundertwasser and made of local recycled materials.
Admission: Free of charge
Location: 60 Gilles Street
Photographed: 6.6.2013