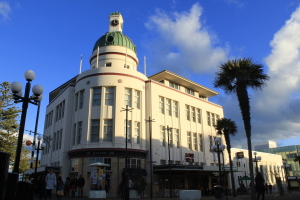 Hawke's Bay region is situated on the east coast of North Island. It is known for its sunny weather, fine wine and Art Deco architecture. The biggest cities are Napier and Hastings.
• On 3 February 1931 Hawke's Bay was hit by a strong earthquake, which killed 256 people and damaged the cities of Napier and Hastings. After the devastating earthquake Napier was rebuilt in the architectural style of the time – Spanish Mission, Stripped Classical and predominantly Art Deco.
• Captain Cook didn't name the Bay after the abundance of hawks, but to honor Sir Edward Hawke, First Lord of the Admiralty.
Highlights of this region:
• The Gannet colony at Cape Kidnappers – the world's largest accessible mainland gannet colony.
• Art Deco architecture, Napier
• Te Mata Peak, Havelock North – offers stunning views
• Wine tasting experience
For more adventurous ones:
Snorkel with the sharks and stingrays in National aquarium.
Napier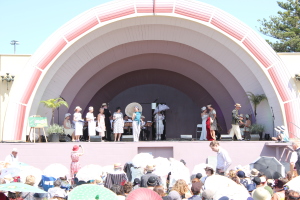 Art Deco Capital of the World. There are collection of buildings in the architectural styles of the 1930s – Spanish Mission, Stripped Classical and predominantly Art Deco.
To get the best out of the city's architecture guided tours are available or you could buy 'Art Deco Self Guided Walk Booklet' and explore the decorative buildings for yourself and at your own pace.
Art Deco Weekend in February – Stepping back in time
Once a year third week of February Napier holds Art Deco Weekend to celebrate the style of the 1920's and 30's. The program offers variety of events such as a parade of vintage cars, aerobatic flying displays, and concerts.
Te Mata Peak, Havelock North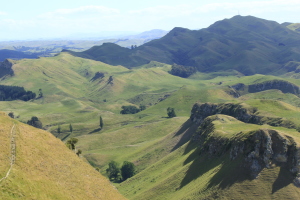 This panoramic landmark stands 399 meters above the Heretaunga Plains and offers stunning views and several trails for hikers. You can drive up to the top, cycle it or walk it. Driving to the top and down might not be fun experience for some as the road is narrow without barriers and with cliffs and steep drop.
Wine Tasting
Hawke's Bay is the oldest wine-growing region a home to award-winning wines.
This region offers plenty of seasonal jobs. So if you are planning to do fruit picking or harvesting you are very likely to stay here for couple of months and to get the most of your time, I have some tips for you – activities to do in nearby cities/towns and one day trips (waterfalls, trails, etc.)
What else to see/do? Here is my list of things I have done:
Napier
National aquarium
New Zealand's largest display of aquatic life is home to sharks, stingrays, and also kiwi, tuatara and more. There are 1,500 fish species to see in the 50 meter long tunnel.
If you after more thrilling experience, you can swim with the sharks and stingrays.
Prison tour
Day and night tours available
(I thought that was just an average, small, overpriced attraction)
55 Coote Rd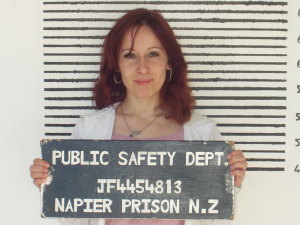 Opossum World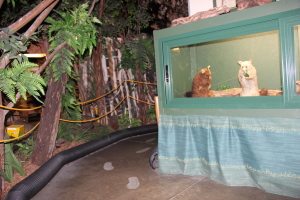 Shopping and learning experience
Retail outlet offers clothing made of possum and merino wool e.g. wool jerseys, gloves, socks.
Opossum might look cute, but it's the most hated animal by locals. It is estimated that 70,000 000 opossums consume 21,000 tonnes of vegetation per night.
157 Marine Parade
Classic Sheepskin Tannery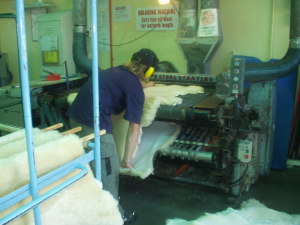 Free tours of the plant are available from Monday till Saturday at 11am and 2pm.
Part of the tannery is a retail shop that offers items from sheepskin e.g. rugs, slippers, soft toys for cheaper price (compared to souvenir outlets).
Address: 22 Thames Street
 Ocean Spa Napier
• Heated outdoor pools and hot spa or indoor private spa along Marine Parade
Pandora Pond – Popular with swimmers and windsurfers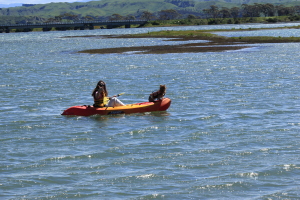 Nearby there is 3.8km easy walk around the lake Ahuriri Estuary Walk
No longer available! Marineland –swimming with a dolphin
Exhibition with marine wildlife was home to dolphins, fur seal, sea lions, blue penguins.
Visited: 2004 (2008 closed to the public and 2013 replaced with a Skate park)
Location: Marine Parade
Havelock North
Arataki honey visitor centre
Learn about bees and honey making. There is variety of honey for tasting. Entry is free.
66 Arataki Road
Hastings
City – Spanish Mission architecture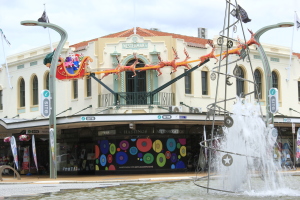 After the devastating Hawke's Bay earthquake in 1931, Hastings preserved its city predominantly in Spanish Mission style, 1920's architecture (e.g. Hawke's Bay Opera House). There are also examples of Art Deco (e.g. Dominion Restaurant) and Stripped Classical (e.g. Public Trust building) architecture.
Splash Planet – amusement park, water theme park
Location: 1001 Grove Road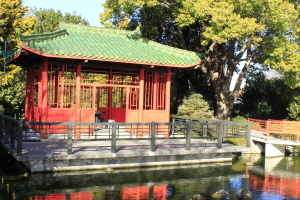 Osmanthus Garden this traditional Chinese garden commemorates the relationship with its sister city Guilin, in southern China.
Blossom Parade – Celebrates the arrival of spring (September) (Photos in a Gallery)
New Year's Day Races – Summer Festival
(Visited 1.1.2011, photos in a Gallery)
[gmedia id=62]
Manawatu Gorge Tunnel Walk
This charity walk can be experienced only once a year. The track is around 8 km long along the railway lines, many bridges and through two long tunnels. Walking it in 2012 offered us a chance to view the Manawatu Gorge slip – the largest road slip in NZ history.
[gmedia id=98]