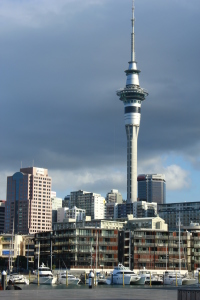 • The largest city of New Zealand. In Auckland live over 1.4 million people, which is more than 30% of the country's population.
• Known as "the City of Sails" – it has more boats per capita than any other city in the world.
• It was the capital in 1842-1865.
• The Sky Tower is the tallest structure in the Southern Hemisphere; it is 328 metres high.
Photo: 10.2.2012
Sky Tower – Skyjump
SkyJump is 192 meters high and it is New Zealand's highest wire-controlled base- jump. So, basically you are attached to a cable and jump off of the tower and land on your feet. The fall reaching speed of 85kph lasts about 11 seconds.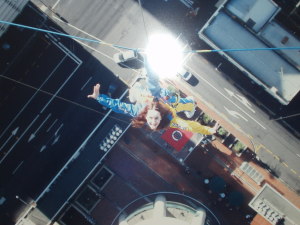 Location: (Address: corner of Federal and Victoria Streets, Auckland)
Stars: 5/5 The thrill was unbeatable
I was freaking out before the leap, but when I finally jumped I loved everything – the excitement, exhilaration and attention; people were gathering and waiting for someone crazy to take the leap and I was the first of the day.
Date: 3.6.2007
Kelly Tarlton's SEA LIFE Aquarium
Is home to:
• Underwater creatures e.g. crayfish, pigfish, piranha, lionfish, clown triggerfish, sharks, stingrays
• Replica hut – museum exhibition of Antarctic explorer Sir Robert Falcon Scott's
• The colony of Antarctic penguins.
Photo: Taking a ride around the penguin colony in a snow cat (vehicle used in snow). (The vehicle doesn't operate anymore)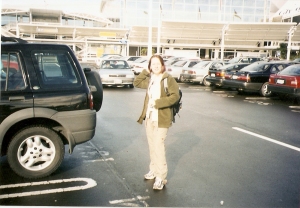 Location: Kelly Tarlton's SEA LIFE Aquarium, 23 Tamaki Drive
Date: 13.6.2003
Mount Eden – 196 m is the highest volcano in Auckland and it is about 50 meters deep. Location: Mount Eden Road, Auckland Central
The very first picture of me in NZ (11.6.2003) taken outside the Auckland airport.
[gmedia id=32]